We are pleased to welcome Chester Weaver as guest author of today's post. Weaver is principal of the Hebron Christian Day School (LaGrange, Ind.) and a member of Rosewood Fellowship, a Beachy Amish congregation in Shipshewana, Ind. He is also a member of the Bearing Witness Steering Committee.
Weaver has collected for us a descriptive list of children's and youth literature published within the conservative (plain) Mennonite tradition and focused on costly discipleship.
---
The Martyrs Mirror continues to loom large among the plain Mennonites. Books that have their roots in Martyrs Mirror continue to be published by Rod and Staff Publishers, Christian Light Publications, Pathway Publishers, and Eastern Mennonite Publications.
I sat down with these publishers' catalogs to compile a list of books growing out of Martyrs Mirror or containing stories which portray costly discipleship during the first two hundred years of the Anabaptist story. Most likely I have omitted some items that I should have included.
But this list provides a window into the conservative Mennonite effort to continue to provide present-day readers with inspirational stories from the past, with the precise objective of preparing the oncoming generation for faithfulness to Christ.
Here is what I have compiled:
Coals of Fire by Elizabeth Hershberger. This classic has remained in print ever since its publication by Herald Press in 1954 and probably resides in every Christian school operated by conservative Mennonites.
Kathy Meyer Reimer, professor of education at Goshen College, described Coals of Fire in an article on Mennonite children's literature:
[These] are modern day "Martyrs' Mirror" stories written for the school-aged reader. They are stories of having to make choices in war times and in peace times. They are stories that take on a mythic quality—showing people who do heroic things because of their faith, because they believe in peace and service and loving other people fully….

Bauman's Coals of Fire is a collection of stories of the actions of people from a number of branches of the Anabaptist family, based on their belief in justice, peace and nonviolence. In 5- to 10-page vignettes, Bauman tells of individual actions or decisions people have made at critical times. My favorite is the story of the Swiss family who wake up at night hearing someone taking the thatch off their house. The family invites the "workers" in for a delicious meal, after which the "workers" replace all of the thatch they had removed.
Godly Heroes of the Past by Sharon See. This book contains 21 stories of costly discipleship. The stories are accessible for younger children (ages 8-11) and accompanied by large, realistic illustrations.
Evangelists in Chains by Elizabeth Wagler. This is the fictional story of Peter Hans, a young man living in the Hapsburg Empire (Austria) in the 1530s, who faces persecution for his faith. It has also been translated into both Spanish and German.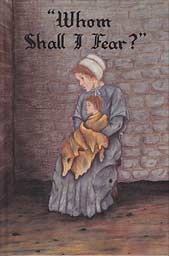 "Whom Shall I Fear?" by Kendra Burkholder. Based on historical characters that appear in Martyrs Mirror, this book tells the story of Claudine, wife of the Anabaptist minister Peirsom des Mulliers. When her husband is arrested, Claudine faces both uncertainty and fear, struggling with how to preserve her family while still holding fast to her faith. It has also been translated into German.
In the Whale's Belly by James Lowry. This book contains eleven stories from Martyrs Mirror, retold for younger readers. The final chapter discusses the history of the Martyrs Mirror and its contents. It is also available in Chinese, Russian and German.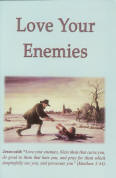 Love Your Enemies. A short booklet containing three historical accounts of nonresistance and love of enemy from the Anabaptist tradition. It is also available in Russian, Arabic, and Chinese.
Cup and Cross by Michael Martin. This book about Anabaptist history is written from a conservative Mennonite perspective and focuses on stories of costly discipleship. It is intended to be used as a study book for churches or schools.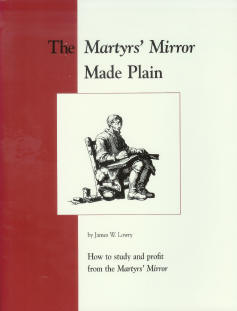 The Martyrs Mirror Made Plain: How to Study and Profit from the Martyrs Mirror by James Lowry. Meant to help interpret Martyrs Mirror for the modern reader, this guide focuses on individual stories and includes meditations and reflection questions. The second half also contains an in-depth study of nonresistance in the Martyrs Mirror.
Not Regina by Christmas Carol Kauffman. Built around the character of Felix Manz, this classic novel tells the story of a fictional young woman in Switzerland who finds herself drawn to the Anabaptists and their beliefs amidst the turmoil of the Reformation.
The Drummer's Wife by Joseph Stoll. Twelve stories of Dutch Anabaptists from Martyrs Mirror retold in modern English.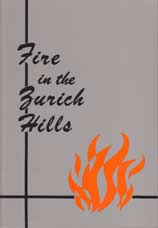 Fire in the Zurich Hills by Joseph Stoll. A follow-up to The Drummer's Wife, focused on stories from the Swiss-Anabaptist tradition.
Dirk Willems: His Noble Deed Lives On by David Luthy. This book chronicles the hundreds of places Jan Luyken's iconic etching has appeared over the past 500 years as a way of recounting Willems's story.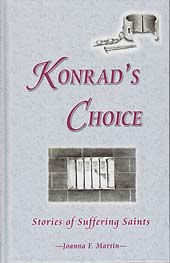 Konrad's Choice by Joanna F. Martin. A collection of eighteen stories of costly discipleship from North America and Europe, ranging from 1525 to the 1930s.