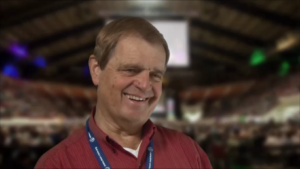 Se encuentra en español aquí: https://www.martyrstories.org/iglesia-menonita-de-teusaquillo-guiovanni/?lang=es
We have received many displaced people at Teusaquillo Mennonite Church over the years, and they typically come to our church very frightened and disoriented. For many of them, it is the only place where they can share and where people will listen, comfort them, pray with them, cry with them and help them find solutions.
When Guiovanni came to our church, he was fleeing from paramilitary groups in a town outside of Bogotá. At our church he began learning about the gospel, and there was a woman there who took a particular interest in him. One Saturday morning they were both there for our weekly time of prayer and fasting. Before Guiovanni left, this woman prayed for him.
Then Guiovanni went to his sister's house to pick up a suitcase, but when he arrived, there was a taxi in front of the house. Three or four men jumped out of the taxi and tried to force him inside and kidnap him.
When Guiovanni resisted, they took out a knife and stabbed him in the backpack he was wearing. But inside Guiovanni's backpack was a Bible and they stabbed the Bible from back to front.
The knife went through to the gospel of Luke, but it didn't hurt Guiovanni. About that time a police patrol came by and the men fled.
Guiovanni continued living in Bogotá, working as a porter at a large market. The threats continued, however, and once he was chased and shot in the leg while working at the market. So the woman from the church and her husband gave him a place to stay on the third floor of their house.
One day Guiovanni called the church to confirm that he would be there for a 4:00 meeting. But he never got there. The phones had been tapped, and someone had intercepted Guiovanni's call.
Later on that evening, the woman where he was lodging said, "I'm worried about Guiovanni. He hasn't come home yet. Did he ever get to the interview at 4:00?" I told her that Guiovanni had never come for the meeting.
We both started praying.
As Guiovanni had been approaching the church building that afternoon around 4:00, there was a car waiting for him a few meters away on the other side of the street. There were again three or four men inside, and they started wrestling him into the car. As they grabbed him, they said, "We would have gone and gotten you out of that building earlier, but there are always so many men in front of it."
Guiovanni was so surprised that he laughed out loud! He knew the only man regularly found in front of the church was a little crippled man that took care of the cars. There certainly was no group of men there.  
Guiovanni realized that God had been protecting the building, and that filled him with happiness. But his laughter angered them, so they kicked him in the teeth, pushed him in the car and laid him on the floor. They were going to take him to Villavicencio, a city on the plains several hours away, to see "the boss."
They took him to a house until nightfall, when they planned to leave the city. When nightfall came, then they tried to push him into the trunk of the car. When he resisted, they stabbed him in the leg. From inside the trunk, he prayed, "Oh Lord, now what? Get me out of this trunk, please."
As they were leaving the city, what should happen but they had a flat tire. So that meant stopping the car and opening the trunk.

Guiovanni thought, "What shall I do? Now's my chance." He asked for permission to go to the side of the road to pee. While they were fixing the flat tire, he jumped off the side of the road and into the darkness.
The road was on the edge of a cliff, and when Guiovanni jumped, he got stabbed with a stick in his side. His captors fired some shots into the darkness, but they couldn't see him. Guiovanni started running down the embankment through the underbrush, and they lost him.
An hour later, someone found him and took him to a police checkpoint. At 3:00 that morning, we got a call from the police. Guiovanni was in the health center in a different sector of Bogotá, and we could come get him.
So that's how God got Guiovanni out of that mess.